Print & Web Design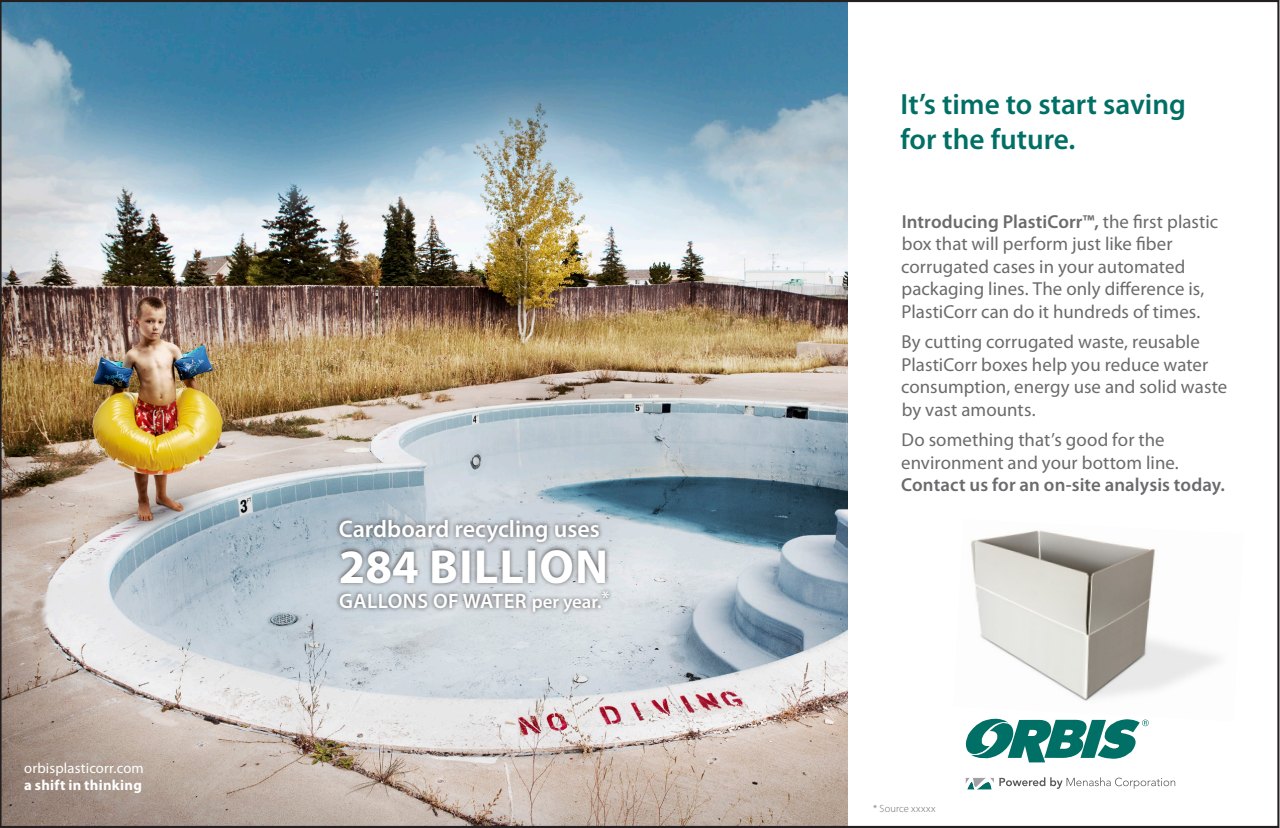 ORBIS, a leading supplier of plastic reusable packaging, was set to launch a revolutionary new product. PlastiCorr is the first direct reusable replacement for the corrugated cardboard boxes typically used in automated packaging lines. Each PlastiCorr box could replace hundreds of cardboard boxes over its lifespan, cutting solid waste, water and energy use for companies in dramatic fashion.
Solution
We provided a complete range of integrated marketing services
to support the launch. We began by participating in early strategic
discussions and providing the client with naming options. With rampant
stories of fresh water shortages emerging from the West Coast at the time
of the launch, our objective was to not only introduce the product, but
immediately inject ourselves into the industry-wide conversation happening
around this environmental crisis.
We crafted a striking visual campaign, with the first execution focused on
the shocking level of water savings the product could provide.
Understanding that we were also introducing a brand new product to
market, we knew that it was essential to balance our focus between
these stunning benefits and the products basic features. We developed
a microsite that presented both in harmony with one another. As users
scrolled through the page, we used parallax-style effects and video to
demonstrate the new design and give context to the benefit story.
We made a strong push with our media relations activity, coordinating our
efforts to converge for the official launch at one of the industry's largest
annual trade shows.
Results
PlastiCorr was officially introduced for the first time at PackExpo 2015.
Dedicating nearly half of the ORBIS booth to the new product, the client
received a stunning 57 sales leads from the show alone.
At the event, Core further assisted ORBIS by providing digital press kits
for the media, stored on a flash drive attached to a reusable water bottle.
Our media relations efforts resulted in 17 featured media placements
for PlastiCorr and over 875,000 impressions within this highly-targeted
vertical category.